Continuity Camera
With Continuity Camera, you can use an iPhone XR or later as a webcam for a Mac, taking advantage of the superior camera technology for clearer video calls. The iPhone can connect to your Mac both wired & wirelessly to access this function, and the iPhone's camera automatically prompts you to use this feature when it's brought close to the Mac.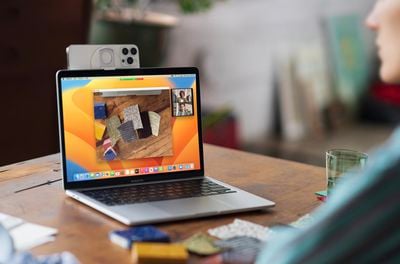 The iPhone can also serve as your Mac's microphone, in addition to working as a camera. Tying into this, there are multiple video effects you can use to enhance the experience.
Portrait Mode - Blurs the background behind you.
Center Stage - Center Stage uses the Ultra Wide camera on the iPhone to adjust the framing to keep you centered if you move around while on a call.
Studio Light - Studio Light dims the background and illuminates your face to replace external lighting. Apple notes that it's ideal for difficult lighting situations, such as backlit scenes in front of a window.
Desk View - Desk View uses the Ultra Wide camera on the iPhone to show what's on your desk during a video call. It is designed to mimic an overhead camera, so you can share your desk and your face at the same time.