In the upcoming macOS version, 13/Ventura, there are some considerable changes to these commonly used apps.
Notes
Notes are automatically organized into Smart Folders based on new filters in macOS Ventura. Rules & Filtering options are available for Date Created, Date Modified, Shared, Mentions, Checklists, Attachments, Quick Notes & Folder.
Also, notes are now grouped by chronological categories like Today and Yesterday for quick reference, combining that with the aforementioned filter options for Smart Folders and the Tag Browser - you have a pretty powerful organization system.
Locked notes can be encrypted end-to-end with your Mac's login password, and the Notes app will now support collaboration features that allow anyone with a link to a note to join in and work on it. Unfortunately, Apple did not display any previews at WWDC - so we do not have a display of these changes / new features.
Reminders
There are several new features in the Reminders app in macOS Ventura.
Pinned Lists- Lists can be pinned for quicker access.
Templates- Lists can be saved as a template that can be reused for routines, packing lists, grocery lists, and more. Templates can be published and shared with others. Templates other people have created can be downloaded and used in your Reminders app.
Completed Smart List- All completed reminders can be viewed in one place, with info like the time & date of completion.
Scheduled Lists- The Scheduled list has new week and month groups to help with long-term organization, planning & even goals.
Today Lists- The Today list is now grouped by Morning, Afternoon, and Tonight for a better division of the day.
List Groups- You can click on a list group and see a combined view of the lists and reminders that it contains.
Richer notes- When adding notes to your reminders, you can include bullets, underline, bold, and strike-through text. We're still unclear on the support of hyperlinks, as typically "rich text" includes this - but Apple used the terminology "Richer notes" and did not highlight hyperlinks being a feature.
Notifications in shared lists- When tasks are added to or completed in shared lists, Reminders will send a notification.
Filters- In the Tag Browser and Custom Smart Lists, there are options to filter for any or all criteria selected. No support for custom criteria, yet.
Unfortunately, once again, Apple did not show previews of these features at WWDC so we do not have correlating screenshots / media.
Safari
Apple in macOS Monterey added Tab Groups, and in macOS Ventura - they are now Shared Tab Groups. With Shared Tab Groups, you can send out a Tab Group & your friends, coworkers, or even parents can have the experience of your Tab Group. Everyone can add tabs and see the Tab Group update as tabs are added.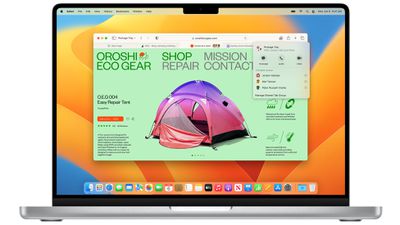 Tab Groups have their own start pages in macOS Ventura, so each one can have a customized background image and favorites. Pinned tabs work in Tab Groups as well.
There are new web extension APIs for developers to create new kinds of Safari web extensions, and extensions will now sync across devices. Website settings such as page zoom and automatic Reader view will also now sync across all devices.
Apple has also added support for opt-in notifications from Safari pages on macOS, and text in images on the web can be translated using the Live Text feature. Wi-Fi passwords can be managed in Network Preferences, and the strong passwords that Safari suggests can be edited to match site-specific requirements, such as password complexity, length & use of alphanumeric characters.