In macOS 13 Ventura, there are a lot of changes to these apps most use as daily drivers. We outline them below.
Photos
If you have duplicate images in your Photo Library, macOS Ventura can detect them and merge the duplicate images together. The people album can now be sorted alphabetically, and edits made on one photo can be copied and pasted to another photo.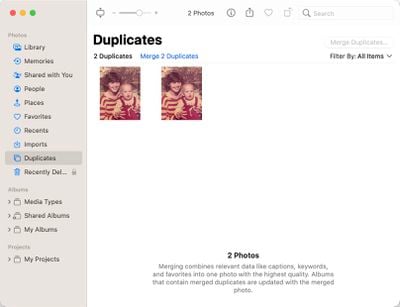 There's a revamped Photo picker for importing photos and videos into system apps from the Photos library, and there are options to Disable Memories and Featured Photos in Photos and the Photos widget for people who do not like those features.
This Day in History and children playing are new memory types, and Apple Music subscribers can now add Apple Music songs to their Memories to listen to on their devices.
Apple locked the Hidden and Recently Deleted albums in the Photos app in macOS Ventura so they can only be accessed with your Mac's login password or Touch ID.
Clock
The Clock app on the iPhone and iPad has been made available on the Mac. It supports Siri integration for setting timers, alarms and checking the time in another city.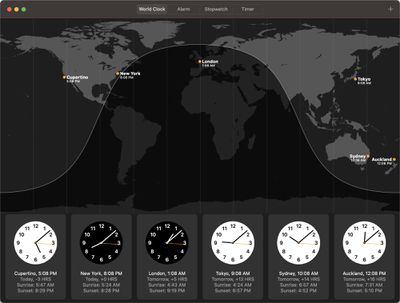 The local time can be seen in different time zones around the world, and there's support for alarms with custom alerts. With Shortcuts integration, the Clock functionality can be extended.
Weather
Apple brought the Weather app to the Mac, and while it has the same design as the Weather apps for iPad and iPhone, the Mac version has been optimized for a larger display. It features immersive animations, detailed maps, and clickable forecast modules.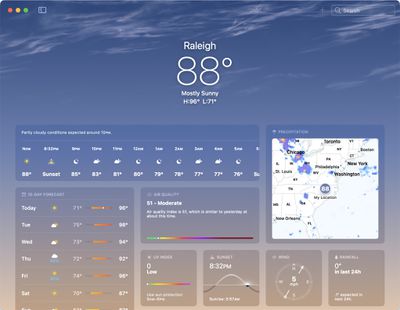 The Mac app has all of the features of the iOS app, including animated weather backgrounds that change based on the weather at your location, severe weather notifications, air quality monitoring, weather maps, and forecasts.
Home
The Home app has been overhauled with a design that makes it simpler to navigate and organize smart home accessories, plus Apple says that the app features improvements to the underlying architecture to make smart home devices more efficient and reliable.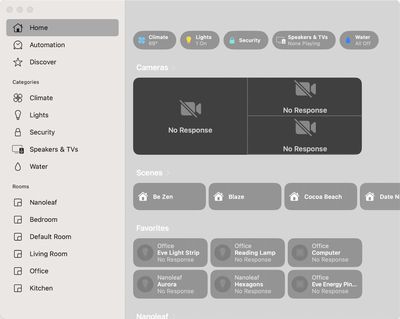 With the dedicated Home tab, all of the accessories in the entire home are visible on one screen. All rooms and favorited accessories are aggregated into a single tab for easier access to the most often-used accessories. Accessory tiles have been redesigned to make each different type of accessory more obvious at a glance.
A selection of categories is available at the top of the app, and it organizes accessories into Lights, Climate, Security, Speakers, TVs, and more, so you can get to the accessories that you are looking for quickly. Apple has added a new sidebar layout for access to accessories by room, and there is a new camera view that displays up to nine cameras front and center in the Home tab.
The Home app in macOS Ventura supports Matter, the new smart home connectivity standard designed to allow accessories from Apple, Google, Samsung, and other smart home manufacturers to work together seamlessly across platforms, for more versatility when it comes to smart home products.